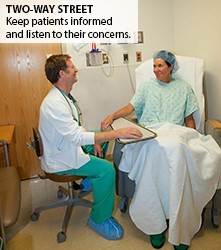 Help Patients Prepare for Anesthesia Care
January, 2015
The American Society of Anesthesiologists says most patients know little about the exact role anesthetists play in their care, beyond putting them to sleep, and need to be better informed about how they can work with providers for safer surgery and sedation.
Check out the full article at this link:
http://www.outpatientsurgery.net/newsletter/eweekly/2015/01/20#3
The medical record should contain good documentation of a pre-op discussion by an anesthesiologist, along with proper consents and clearly written medication orders. There should also be a plan of care for type of anesthesia such as general, regional or a combination of different interventions that the patient has been made aware of before surgery.
If a patient receives a medication ordered by anesthesia that they will be using at home such as nausea or pain patch, appropriate documentation of patient teaching is necessary. Communication between anesthesia and the post-op nurse to coordinate this care is an important way to speed the recovery process, and help prevent post-op surgical readmissions.